One of the first things I made when I started sewing a few years ago was a binkie clip. (some call them a pacifier leash) It is seriously the easiest, fastest gift and the good thing is that most likely whoever you are making it for wont get a thousand of them. I love not having to worry about washing Bennett's binkie every 10 minutes because he has thrown or dropped it.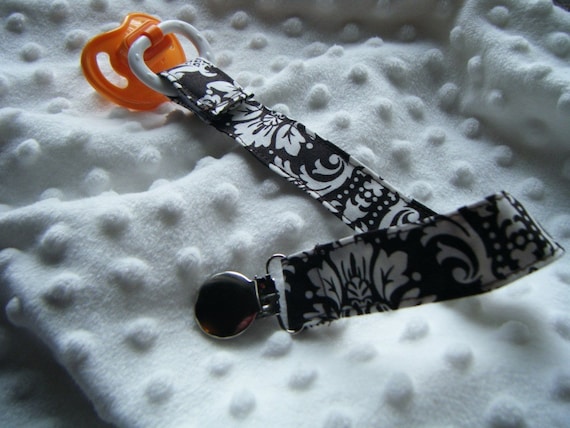 Fabric Version
Ribbon Version
Ive made 2 versions of the clips, one with fabric and one with Ribbon. The ribbon version is the one in this tutorial, it is much faster and a lot easier to make if you aren't very experienced in sewing. To see the fabric version, click the link to the listing in my
Etsy store
.
Binkie Clips
Materials:
Velcro, you can get a long strip from the craft store. You are going to need a piece of each side about .75inx .25in.
Ribbon, The size i use is 7/8 inches, this is just wide enough so that it is sturdy but not bulky.
Thread
Suspender clip, you can buy these at the craft store or online. I personally get mine on
Etsy
(click link to see shop) they are a lot cheaper here and they have cute shapes! You can even get colored ones. The size I get is 1inch.
Step 1. Cut your ribbon 23 inches long, then fold in half with pattern side out (it may help to iron the fold in your ribbon so it stays nice and folded.
Step 2: Sew your Velcro on. The Velcro is going to go on the side with the fold, and it will only be sewn to one side, so the other side will be smooth without stitching. I put the first piece about .25inches from the fold and the other about 2 inches below that. You can measure it by putting the ribbon through the binkie handle to make sure the Velcro is in the right place. Just sew around the edges and make sure you back stitch so it is nice and secure.
Step 3: Fold the ribbon in half on the crease & Sew straight a straight stitch all the way around the border of the ribbon (through both sides). You do not need to stitch the short side opposite of the Velcro (the open end) this will be closed around the clip.The end that attaches to the binkie should be finished now!
Step 3: Slide the open end onto the clip opening, you will then fold the unfinished end over 2 times, so that it creates a finished edge. Pin this, and then stitch a line straight across, again back stitching to ensure it is tight.
And that is it!
Seriously! The easiest little gift ever! So pick out some cute ribbons and make a bunch!